©1995-2014 The Elverson Puzzle Co., Inc.  All Rights Reserved.

Round-Up Special        Price: $ 5.00


This is the ultimate tile-matching game!  Round-Up consists of

eleven uniquely shaped tiles that have red, blue, and green spots

on the edges.  The challenge is to form a circle and other shapes

while matching the adjacent colored spots!  Includes 11 tiles and

a cloth drawstring bag.  Ages 8 to adult.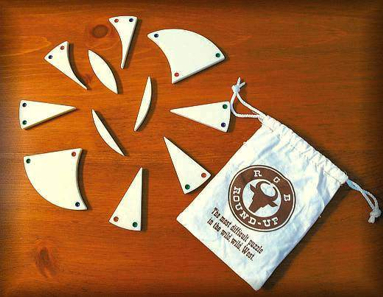 Farkle (or
farkel
) is a fun dice game that is easy to learn and very
addictive!  It can be played with any six dice, but what makes these

dice so special is their size.  These EXTRA LARGE WOODEN DICE are

easy to roll and see when playing with a group of friends.  These dice

were custom made for one of our puzzles.  The dots on the opposite

sides do not add up to seven, and the dice have "DICE STACKER"

printed on them.  Includes 6 extra large wooden dice, instructions

and score sheet.  Ages 8 to adult.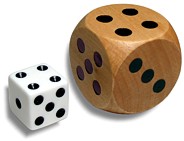 These wooden farkle dice measure 1-1/8" square.

Much LARGER than standard dice!

Farkle Special        Price: $ 5.00


Log Stacker Special        Price: $ 5.00


The Log Stacker puzzle is the kind of puzzle that makes you say,

"I can do that," then no one hears from you for hours, if not days!

It may look easy to get all 13 logs into the wooden puzzle box, but

we are sure that you will struggle with it for a long time!

If you find a solution (one that does not involve a saw), try looking

for another - there are two unique solutions!  Ages 8 to adult.

Our Log Stacker Specials are brand new, but have imperfections

(dents and/or natural discoloration in the wood).