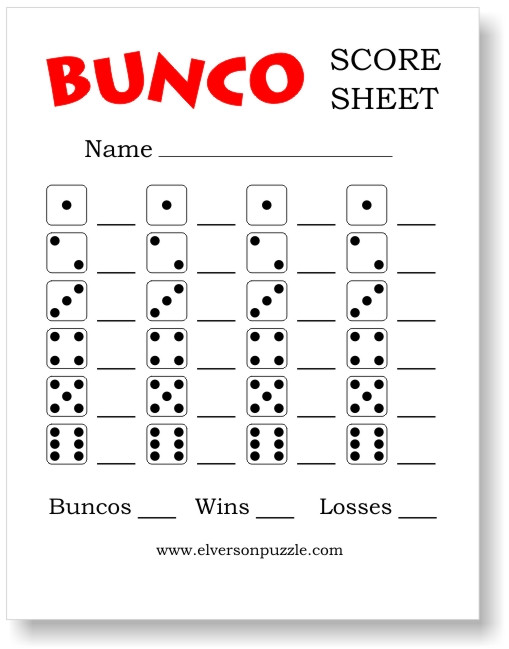 Our Bunko Score Sheets are in PDF format.  Just click on the picture of the

Bunco Score Cards to open the file and print.  Four Bunco Score Sheets are

printed in color on a 8 1/2" x 11" sheet of paper.

Bunco Score Sheets are used to play Bunco.  Players record the number of

rounds they win and lose as a team, and the number of Buncos they score

individually, on their personal scorecard.  At the end of the game, prizes are

awarded for the most wins, most losses, and most Buncos.

We created our Bunko Score Sheet to be used with our new Bunko Jumbo

Dice Game, which is no longer available, but you are free to print out the

scorecards and use them with any Bunco game.

                                  Game Overview

                        From: The Bunco Book, First Edition

Strictly speaking, bunco is a game of dice, played in rounds. Players take turns

rolling the dice and trying to accumulate as many points as possible to win

each round. The game is played at tables of four in competing teams of two.

Players score points by rolling three dice and trying to match the number

they're supposed to roll for that round. They get a point for each die that rolls

the number, and if all three roll the number they score 21 points. They also

score 5 points for rolling three of a kind of any other number. They get to keep

rolling as long as they score one or more points with each roll. Once they fail to

score they pass the dice to their left and the opposing team gets a chance to

score.

During each round the teams at the Head Table try to score 21 points. The

first team to score 21 points wins the round and play stops. At all other tables

play stops when the Head Table play stops and the team with the highest

score at each lower table wins the round.

At the end of the round players change seats, the winners at each of the

lower tables move up a table, and the losers at the Head table move to the

lowest table. Players also switch partners at the end of the round, so you

never play with the same partner twice in a row.

During play, players track the number of rounds they win and lose as a team,

and the number of Buncos scored individually, on their personal scorecard. At

the end of the night wins/losses and Buncos are tallied and prizes awarded.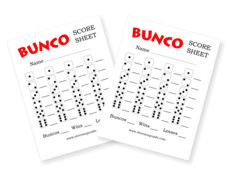 9 Large Wooden Dice      Price: $ 6.75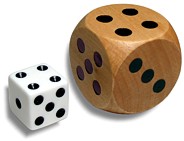 Extra large wooden dice measure 1-1/8" square.

Much LARGER than standard dice!

Need some LARGE, easy to see dice for your next Bunco Party?

These EXTRA LARGE WOODEN DICE are easy on the eyes when playing with

a group of friends. Set includes 9 dice and a cloth bag for storage. 

How can we offer our dice at such a low price?  We had a large quantity

of custom dice (the spots on the opposite sides do not add up to seven) made

for one of our puzzles.  These dice have "DICE STACKER" printed on them.  We

also had a large quantity of cloth bags made for another puzzle.  These cloth

bags are custom-printed with artwork and instructions for our Round-Up puzzle.

Therefore, we bundled the dice with the cloth bags and offer them to you at

this very low price!  Please note that all natural wood products have variations

in the color and grain of the wood. 

3 tables

12 chairs (4 per table)

9 dice (3 per table)

3 scratch pads (1 per table)

12 pencils (one per player)

game bell

fuzzy die

prizes

©1995-2011 The Elverson Puzzle Co., Inc.  All Rights Reserved.