Our Farkle Rules are in PDF format.  Just click on the picture of the Farkle Rules

to open the file and print. 

We created our Farkle Rules to be used with our new Farkle Deluxe Dice Game,

but you are free to print out the instructions and use them with any Farkle game.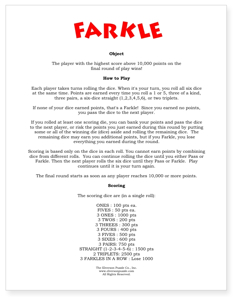 Object

The player with the highest score above 10,000 points on the final round of play wins!

How to Play Farkle

Each player takes turns rolling the dice. When it's your turn, you roll all six dice at the same time. You can practice rolling the dice on our
Dice Roller
page.
Points are earned every time you roll a 1 or 5, three of a kind, four of a kind, three pairs, or a six-dice straight (1,2,3,4,5,6).

If none of your dice earned points, that's a Farkle!  Since you earned no points, you pass the dice to the next player.

If you rolled at least one scoring die, you can bank your points and pass the dice to the next player, or risk the points you just earned during this round by putting the winning die (dice) aside and rolling the remaining dice.  The remaining dice may earn you additional points, but if you Farkle, you lose everything you earned during the round.

Scoring is based only on the dice in each roll. You cannot earn points by combining dice from different rolls.

You can continue rolling the dice until you either Pass or Farkle. Then the next player rolls the six dice until they Pass or Farkle.  Play continues until it is your turn again.

The final round starts as soon as any player reaches 10,000 or more points.

Scoring

The scoring dice are (in a single roll):

Single 1 spot : 100

Single 5 spot : 50

Three of a kind of 1 spots : 1000

Three of a kind of 2 spots : 200

Three of a kind of 3 spots : 300

Three of a kind of 4 spots : 400

Three of a kind of 5 spots : 500

Three of a kind of 6 spots : 600

Straight (1-2-3-4-5-6) : 1500

Three pair: 750

Two Triplets: 2500

Three Farkles in a row: Lose 1000

Farkle Deluxe - The farkle dice game

Farkle Deluxe      Price: $ 5.95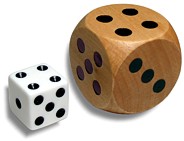 Farkle Deluxe wooden dice measure 1-1/8" square. Much LARGER than standard dice!

History of Farkle

Farkle is an ages-old dice game. It has the advantage that it can be played with just a set of 6 dice and some paper for scoring. It requires no cards, the counting is easy, and it can be taught in just a few minutes. It also contains a good deal of strategy. 

The original game is said to have been first played in Iceland by Sir Albert Farkle in the 14th century. Since then, it has been played in a few different styles, but the original game has survived for over 700 years.

The first printed reference to Farkle is found in a festival directory printed during the time of Shakespeare. 

Farkle (or
farkel
) is a fun dice game that is easy to learn and very addictive!  It
can be played with any six dice, but what makes this Farkle dice game so special

are the size of the dice. These EXTRA LARGE WOODEN DICE are easy to roll and

see when playing with a group of friends.  Farkle Deluxe is great for playing ANY

dice game, including
bunco
!
How can we offer Farkle Deluxe at such a low price?  We had a large quantity

of custom dice (the spots on the opposite sides do not add up to seven) made

for one of our puzzles.  These dice have "DICE STACKER" printed on them.  We

also had a large quantity of cloth bags made for another puzzle.  These cloth

bags are custom-printed with artwork and instructions for our Round-Up puzzle.

Therefore, we bundled the dice with the cloth bags and offer them to you at

this very low price!  Ages 8 to adult.

©1995-2011 The Elverson Puzzle Co., Inc.  All Rights Reserved.

Farkle/Texas Bandit      Price: $ 6.95