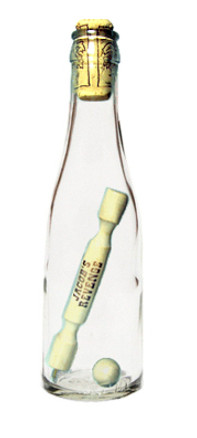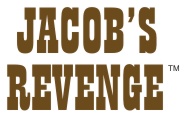 Jacob's Revenge        Price: $ 11.95


and owner of more than 40,000 puzzles,

described Jacob's Revenge as, "one of

the best dexterity puzzles in decades."  

This classic wine bottle puzzle has

baffled the world since 1995!

The object is to make the wood ball

touch the cork.  It may look easy, but

the stick blocks the ball whenever the

bottle is turned upside down.  It's an

extremely frustrating brain teaser, but

the solution is surprisingly elegant! 

Measures 7" tall.  Ages 12 to adult.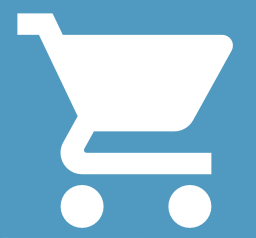 Questions? Email us!

info@elversonpuzzle.com








Wine Bottle Puzzles
Jacob's Revenge Wine Bottle Puzzle
Letters from our customers...

" I bought your wine bottle puzzle at a Cracker Barrel Old Country

Store quite a while ago, and never figured out how to get that litte

ball into the neck of the bottle.  Please send the solution to the

Cracker Barrel Puzzle before I go crazy ! "

                                                                        Sandi

                                                                        Chattanooga, TN

" I received this unique gift from my boss for Christmas and the

whole office was dumbfounded, including myself.  I purposely

didn't go to the web site because I would have spilled the beans

prematurely.  But now that we are on Christmas vacation I found

the solution and can spend time teasing friends with the puzzle. 

Thanks again for such ingenious brain teasers."

                                                                        Guy

                                                                        Kearny, NJ

" Would you send me a copy of the official solution to your wine

puzzle?  I would really appreciate it.  I tried many times, but I can't

seem to get it.  I GIVE UP!  Congratulations - a first rate puzzle."

                                                                        Mike

                                                                        Bayside, NY

" Recently, while traveling through Oregon, I purchased your

unique puzzle, Jacob's Revenge.  Well, you were right, while

creating hours of fun, combined with frustration, I am now

ready to give up and seek your solution."

                                                                       Cheryl

                                                                       Irvine, CA

" Thank you for your Jacob's Revenge Bottle Puzzle for my 98th

birthday.  After several months of pondering the possible solution,

I hate to admit I must finally give up.  Please send me the solution

so I can rest better at night."

                                                                       Roosevelt

                                                                       Sulligent, AL

" I am writing to discover the secret behind Jacob's Revenge.

My entire office has given up on it, so I would appreciate if you

would let us in on the mystery that is Jacob's Revenge."

                                                                       Ted

                                                                       Narberth, PA

" Our 5th grade class has tried to solve Jacob's Revenge for five

months and everytime, we have been stumped.  We would like to

have the solution to the puzzle."

                                                                       Sophie & Derek

                                                                       West Hartford, CT

" This simple solution you speak of.  I hope it does not involve

breaking the bottle.  I feel like I have tried everything imaginable.

However, when the solution is sent, I will be so angry at myself. 

To send for the solution has been a difficult decision."

                                                                       Carmen

                                                                        Baytown, TX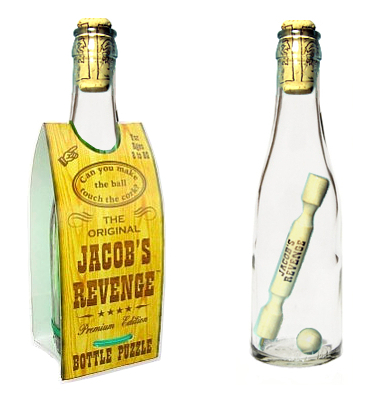 ©1995-2018 The Elverson Puzzle Co., Inc.  All Rights Reserved.

FREE SHIPPING!

   on orders over $50

SUDOKU ROYALE
|
COLOR SUDOKU
|
JACOB'S REVENGE
|
ROUND-UP
|
LOG STACKER
|
KANOODLE
|
SLOTZY
|
FARKLE
|
PRINTABLE SUDOKU PUZZLES
|
BUNCO DICE
|
TO ORDER
|
SOLUTIONS
|
CONTACT US
|
DICE ROLLER
|
ABOUT US
|
BUNCO SCORE SHEETS
|
FARKLE SCORE SHEETS
|
FARKLE RULES
|
ONLINE SUDOKU GAME